OpenWith Enhanced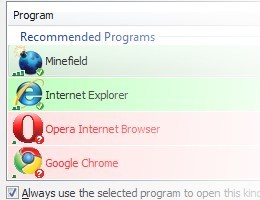 OpenWith Enhanced is a small freeware utility which replaces the standard Windows 'Open With...' window with an improved comprehensive yet intuitive dialog box.
Instead of just presenting the original Windows plain list of installed applications, requiring you to guess the best choice for opening a given file - OpenWith Enhanced extends this list with some of the most popular applications selected by past users to successfully open that specific file type, based on a constantly-updated online database. Applications that have already been installed onto your computer are marked accordingly, so you will know immediately which ones you have access to. If you choose a non-installed application however, you will be redirected to the appropriate program's official website that contains all the relevant downloading and purchasing information.
So each time you stumble upon an unknown file type and wonder what program could possibly open it, or you are looking for a better application to deal with the files you are already familiar with - all you have to do is simply right-click into the Open With... menu and choose.
In addition, OpenWith Enhanced includes several extra handy options:
Change the icon associated with each file type
Remove or disable for a current user any given file association (especially handy on WindowsVista / Windows7 OS, where such options aren't available through standard UI)
Clear the Open With... menu from any unneeded applications
Autofill file type description for new associations with the most popular ones
It works natively on both x86 and x64 versions of Windows and respects UAC settings
And of course, it does what the Open With... dialog should do; allow you to easily open your different files with different applications !
Download OpenWith Enhanced